The Shreveport-Bossier New Car Dealers Association will hold "The Biggest New Car Sale" in North Louisiana history on May 3rd – 7th.  Twelve dealers will combine to offer over 3,000 NEW vehicles for sale at the CenturyLink Center in Bossier City.
To guarantee that this event is a huge success, every new car dealer will offer the best prices of the year.  Every major Automobile Manufacturer will be represented and 20 product lines will be offered to the public at the lowest possible prices.
Cars, Trucks, SUV's, CUV's, Imports and Domestics will be showcased for sale.  Sale hours will be from 9 AM to 9 PM beginning Tuesday, May 3rd and ending Saturday night May 7th.
The CenturyLink Center is the only facility large enough to host an event this big.  The Shreveport-Bossier New Car Dealers Association members have joined forces to offer customers one-stop shopping, on-site financing and on the spot delivery.  Come join the fun and shop every brand in one place.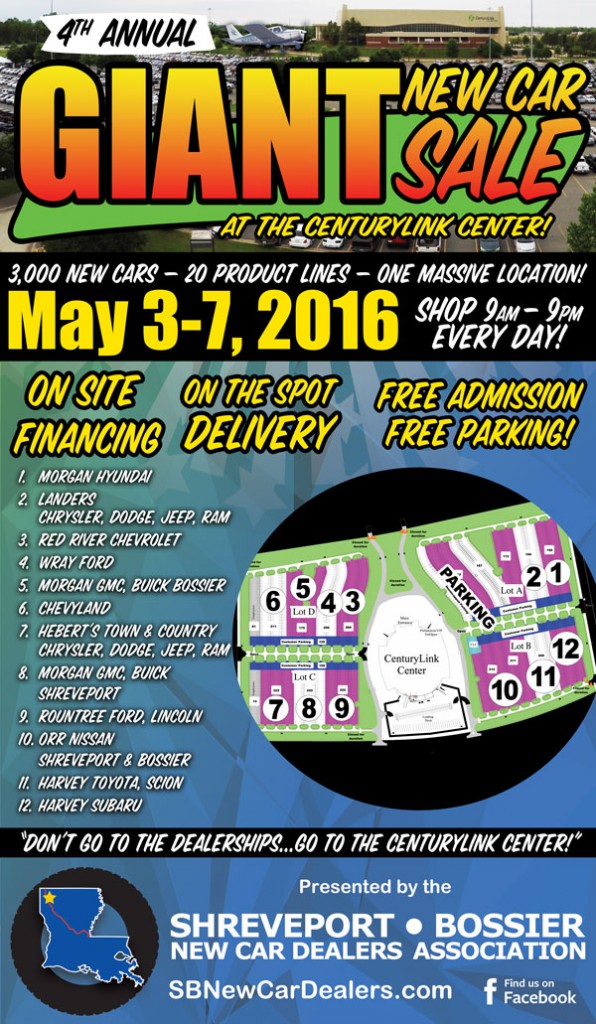 ON SITE FINANCING

ON THE SPOT DELIVERY

12 DEALERS
3,000 VEHICLES

ONE LOCATION

ONE SALE YOU DON'T WANT TO MISS