The Shreveport-Bossier New Car Dealers Association will hold "The Biggest New Car On-Site Sale" in North Louisiana history on May 5th – 13th.  Twenty-two dealerships will compete to sell the most for the least!
When 22 car dealerships battle for your business, YOU WIN!
IT'S CAR WARS!
Cars, Trucks, SUV's, CUV's, Imports and Domestics will be specially priced for sale beginning Friday, May 5th and ending Saturday May 13th.
To guarantee that this event is a huge success, all 22 dealerships will offer the best prices of the year, on-site financing and on the spot delivery.  Official participating dealerships will be decorated with Car Wars banners and signage.
COME JOIN THE FUN!  SHOP AND SAVE!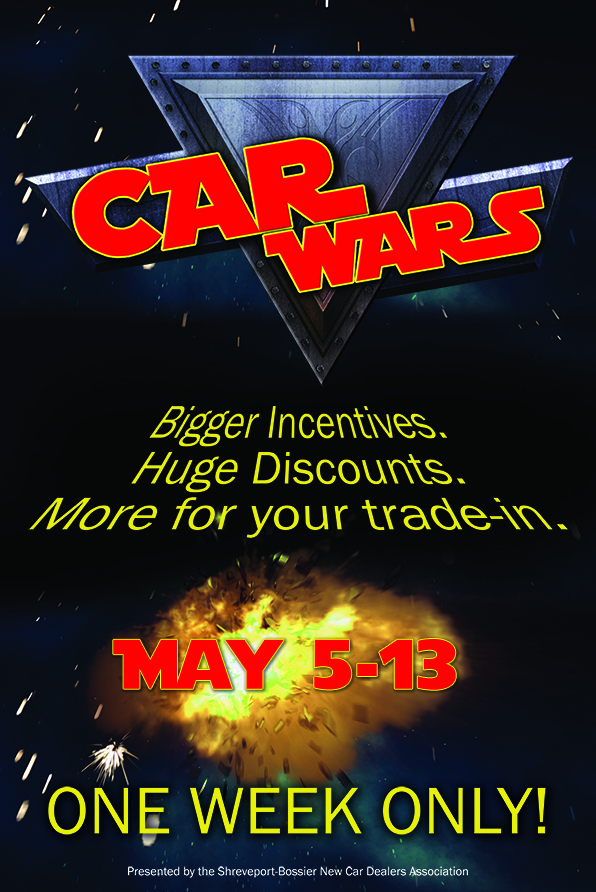 22 DEALERSHIPS

ON SITE FINANCING

ON THE SPOT DELIVERY
THOUSANDS OF VEHICLES

ONE SALE YOU DON'T WANT TO MISS

ONE WEEK ONLY